Just as God demonstrated His presence and affirmation during the early Church movement in the book of Acts, He provided powerful confirmations of His call and faithfulness throughout the development of Sports Friends. Tripp and Brian repeatedly witnessed God's might as they followed Him into unknown territory time and again.
They met Joshua, a Nigerian man born without functional arms or legs. The teenaged boys Joshua poured himself into pulled his little wooden wagon from home to church to soccer field, and swatted flies away from his face. The little boys waiting to grow old enough to play on Joshua's soccer teams would hold up the Bible for him to read to all of them together after practice. Through Joshua's profoundly influential role as a soccer coach and minister, God reminded Sports Friends that it is not the strength, effort, or capability of man that builds the Kingdom of God. It is a joyful and yielded heart that welcomes the Spirit, which God willingly gives without measure. It is concrete belief that God is God, completely reliable, completely sufficient, and completely worthy.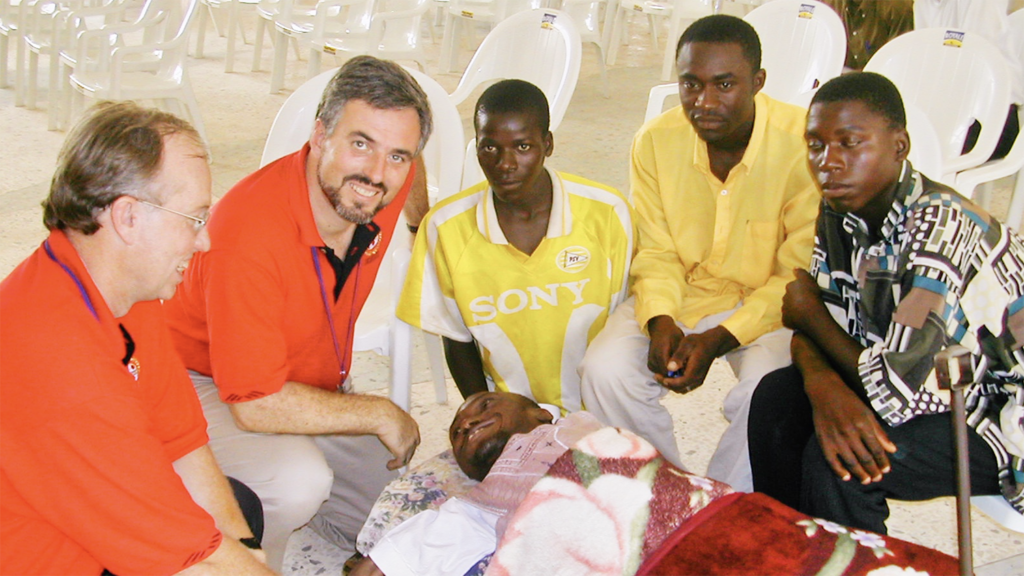 During the first Ethiopian summer camp, God introduced Tripp and Brian to David. He was too young to be there, too small to measure up to the other boys, and too insignificant to be heard of beyond his little rural village that lived generation after generation without knowledge of Christ. But God uses the weak to shame the strong, the foolish to shame the wise, and the small to shame the great. So naturally, Jesus chose David! He gave David a clear vision of Himself, spoke to him and called him to be a witness to His mighty name. He used the little boy to draw many to Himself and establish a church in his village, then grew him up to reach hundreds more through a flourishing sports ministry and his teaching of the Scriptures to others. David was a child when he was called, but God anointed him with an influence that now spans the globe.
And there was Asfaw, the novice sports minister, freshly trained and sent to build relationships with a gospel-resistant people group who lived as nomads in a dry and barren southern region of Ethiopia. Asfaw took up his call with great faith, collected two soccer balls, and went to work in Borana all alone. Almost immediately God gave him 73 youth who played soccer with him then listened to him tell of Christ's love. God gave him welcome among adults who had previously persecuted Christians, because Asfaw brought peace and positive engagement to their children. God gave him favor with the elders and leaders of the people, who afforded him permission to organize teams and gather them formally. God then gave him a harvest of new believers who wanted to follow this Christ they had encountered through Asfaw's witness. Then through the local government, God officially gave him a field for the soccer matches, and a building for the newborn church to worship together in.
Finally, as men and women were discipled and desired to be baptized, Asfaw needed God to give him water in the middle of the desert. It only rained once or twice a year in this region, and the closest (and very expensive) water he could buy was over 60 km away. Despite the mockery of unbelieving neighbors, he dug a hole and laid a tarp, then beseeched his God for the impossible. On the Saturday before the baptisms, a sudden heavy rain fell until the baptismal pool was filled and ready to receive the 18 new believers. The entire village was astonished! After God gave His remarkable gift of rain again for the next baptisms three months later, the community said together with one voice, "These are the people of God!"
Year after year Sports Friends coaches, trainers, leaders, and supporters have seen and testified to the miraculous moves of God all over the world. Sometimes it is in the softening of a hard and bitter heart, sometimes in making connections that would have been impossible to orchestrate, sometimes in receiving protection from former enemies when stakes were high, and sometimes through rain in the middle of a desert. We are all at work here because God is, and he's invited us to join Him. Come along with us, and let's discover together what He has ahead.
"Did I not tell you that if you believe you will see the glory of God?" -John 11:40