Twenty years ago, right around the time God was turning the century, He was turning Brian Davidson's and Tripp Johnston's lives upside down. The upset would cause a ripple effect intended to span continents and generations, and impact the lives of over a million people.
For Tripp, the shift started slowly. He was in his mid-thirties, was happily married to his high school sweetheart Alison, and had three children. He had rapidly advanced in his career as an investment banker and was Chief Operating Officer in a large financial services firm in Charlotte, NC. Then the Spirit of Jesus began nudging him toward investing in such a way that would change the destinies of young people and plant the kingdom of God right into their families, communities, and nations. Over the months, Tripp realized God had transformed his priorities and desires. He resigned from his job in finance and told the Lord he was ready for whatever He had in store.
Soon Tripp was on a plane to Ethiopia with his friend Brian Davidson, a talented soccer coach and sports minister. Over two weeks in Africa, the men were continually struck by the age of the people: over 65% of the entire population were younger than 25. There were kids everywhere! With little opportunity for education or employment, these young people had nothing to do and were drifting forward with an impoverished mindset about the future. However, whenever the men rolled a soccer ball onto the ground, the kids flocked to them, eager to play and to connect.
Before they even got back to the USA, God had begun filling Brian's and Tripp's minds with vision. He sparked a passion in them to serve national churches in Ethiopia by equipping them to reach the youth in their neighborhoods through sports. Where there was no church, sports could be the avenue to build relationships with communities and introduce them to the love and word of God. Brian had been doing sports ministry for decades; he was zealous and adventurous, and knew how to coach and disciple youth. Tripp knew how to organize, form partnerships, develop leaders, raise funds, and create reproducible methods. Their very different but complementary skills were integrated to produce a unique ministry model: church-centered sports ministry (CCSM).
Both men had connections within the well-established organization SIM and wondered if they could work together. SIM knew that in most countries they served, populations were very young and they didn't have many youth-focused ministries; nor did their local church partners. There was a massive global population of young people in crisis, without the knowledge of Christ, and without any consistent outreach. SIM needed to develop ideas that worked on the ground, and God had just given Brian and Tripp the inspiration. Soon, the Davidsons and Johnstons had joined SIM and moved their families to Ethiopia. God provided connections with several national churches and a truly essential partner: Berhanu, an Ethiopian man filled with passion for God and for making Him known. In summer of 2002, Sports Friends was born.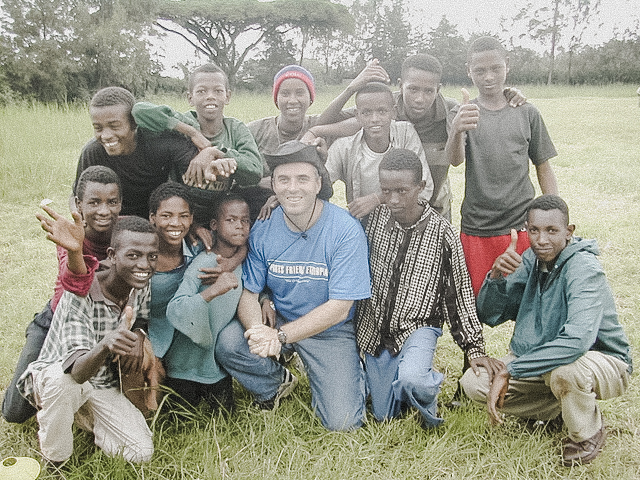 CCSM was a foreign concept in this church culture that perceived sports as dangerous and deceptive, luring people away from the things of God. At that time, ministry was primarily inside the church, not outside its walls… where most young people remained. Still, God rose up a few brave leaders who trained as coaches then invited local youth to join the church soccer team. Not only did the kids come to play, they started coming to faith in Christ. Then their families came to faith. New churches were born in places where evangelists had been chased away for decades. A coach could arrive carrying a soccer ball in their hand and the Bible in their heart, and entire communities would embrace them, grow to love and respect them for their goodhearted work among the young people, then listen to what they had to say.
Momentum grew as more churches launched their own sports ministries, and asked for more training so they could reach further into unreached areas. Tripp, Brian, and Berhanu listened to the requests and developed partnerships with 13 denominations that soon established sports ministry as a main strategy for building up young disciples of Christ in East Africa.
The work's success did not come without cost, however. During those early years in Ethiopia, Brian, Tripp and Berhanu faced many challenges. There was frequent spiritual warfare and opposition. Their families faced robberies and assaults, loneliness and ridicule, educational struggles, a child's serious injury, and even the accidental death of a coach in training. They endured a great deal of pain and faced many real fears, but God continually assured them that He was with them and would go before them. How far would He go? Only time could tell… Read on >>